As new recreational marijuana laws continue to be passed across the country, cannabis dining is becoming more common and popular. If you are new to matching cannabis and food, don't be intimidated by the gourmet experiences popping up across San Francisco. There are no hard and fast rules, but learning a few simple tips can help you master the art of mixing cannabis and food. Continue reading to learn more, and if you're in need of marijuana delivery for your next culinary adventure, browse the Sticky Thumb menu today!
The Basics Of Cannabis Food Pairing
In order to pair cannabis with food or cook with it, you need an understanding of cannabis terpenes. If you want an in-depth guide to common terpenes, visit our Terpenes 101 blog post. In essence, terpenes are the naturally occurring compounds that give individual cannabis strains their aroma and flavors. They're found in different concentrations and blends, and you'll need to know what terpenes the strain contains before pairing it. For example, a lemony strand can go very well with fish, but you wouldn't want a strain with a high concentration of pinene, as it could overpower the delicate fish.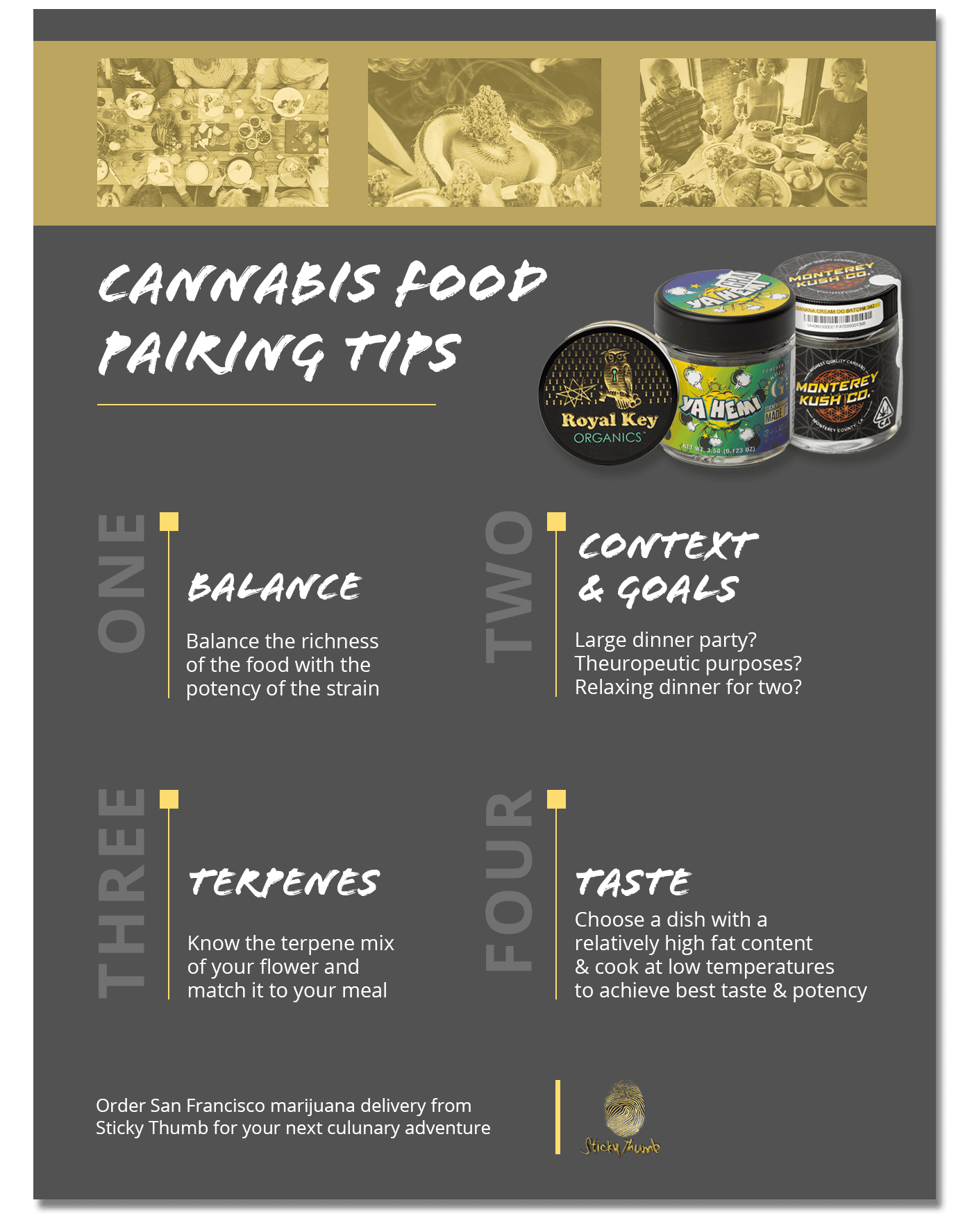 Balance
When pairing cannabis and food, you'll need to think of the balance between the richness of the food and the potency of the strain. The cannabis strain should match the characteristics of the recipe. For example, if you're cooking a heavy pasta dish, try a hearty Indica strain. If you're going for something more light, like a fruity salad or stir fry, a more energizing Sativa strain is a better match. 
Context
Are you hosting a large dinner party? Having a quiet, relaxed night at home? Hosting an early morning brunch? When choosing the cannabis strains to pair with your meal, consider your intentions and the context of the meal. For example, if you're relaxing at home, try an Indica strain. If you're having a multi-course dinner party, try using Sativa to keep people energized or pick multiple, less potent strains to use throughout the evening. If you're using marijuana medicinally, consider the therapeutic benefits you're looking to achieve. You could try combining marijuana with other healing ingredients such as turmeric and chamomile. 
Taste
Last, but certainly not least, you need to consider taste! When cooking with marijuana, you need to both choose a dish that has a relatively high-fat content and be cooked at a low temperature. Know, though, that recipes that don't require heating, such as a salad dressing, can be potent, so be sure to consider dosages when preparing a cannabis-infused meal. Practice what you're making and taste your infused butter or oil before adding it to your dish to determine the best taste combination. One way to do so is to identify the prominent taste characteristic of the dish and what elements you're trying to bring out.  

Sticky Thumb – Marijuana Delivery San Francisco
We have four marijuana delivery locations around San Francisco, and an extensive menu ranging from flower to edibles, topicals, and more. If you're looking to create a delicious cannabis meal, we can bring you the flower you need! And if you're looking for a more simplified way to consume your cannabis, we have an extensive menu of edibles. It's our job to find you the best cannabis products, and everything on our menus is tested by State Licensed testing facilities. We provide marijuana delivery services to San Francisco and the surrounding area, including Monterey, Salinas, and Peninsula. If you have any questions about our services or want product recommendations, contact a member of our team. And if you're looking for weed delivery, look no further than Sticky Thumb!